About the Practitioner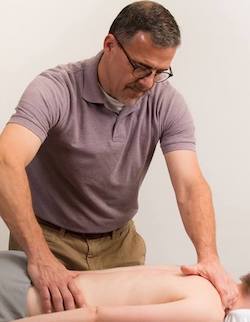 I'm Gary Chambers. I was born in 1965. I've been happily married for thirty-one years: we have three children. Our oldest lives in Chicago and was married in April 2016, our middle child graduated from Ball State University and currently works in Muncie, and our youngest is in her final year at BSU majoring in Speech Pathology and Audiology.
My wife and I have known each other since first grade. I stole my first kiss from her in fifth grade… She doesn't remember it.
I ran 8 consecutive Indy 500 Mini marathons and found the benefit of Massage Therapy to the healing process. I wanted to pass that on so I became a Massage Therapist.
I've worked as a Packaging Engineer for most of my adult life.
I currently drive a School Bus for Greensburg Community Schools, this allows me to focus on Kneadhealing Massage Therapy.
I love watching YouTube videos. It opens up the world.
I'm a member of the First Baptist Church of Greensburg.
I have a BS in Packaging Technology from Indiana State University.
I qualified as a CMT (Certified Massage Therapist) in January of 2001. My training was from Therapeutic Bodyworks School of Massage in Greenwood.
I was raised in a conservative home, my father was an Indiana State Police officer and my mother an elementary school secretary.
On summer vacations we would load up our motor home and go on vacation. There are only 7 states in the continental US that I haven't been in.
I would love to take a month and drive to Alaska in a motor home with my wife.
I've had a goatee for 20 plus years and my wife thinks I look horrible when I shave it off.
I love Mustang convertibles. My plan is to restore a 1965 (the year I was born).
I'm a conservative Republican, but I vote for the person. I get to know the candidates.
I love Greensburg and can't think of someplace else I'd want to live.
We have a small farm in Vigo County that has been in our family since 1833. I have the original land grant signed by Andrew Jackson.
I like working out with a group. I'm currently in classes at Reclaim here in Greensburg.
I love storms, watching them roll in from my open garage door is amazing.
I hate moles. It is my life's mission to rid my yard of moles!
I love my wife and she is my biggest fan!
Gary R. Chambers, CMT
Indiana Cert# MT20900561
TESTIMONIALS
Gary gives a very therapeutic massage. If you need some good bodywork, he is your go to in the Greensburg area!
Gary absolutely rocks. He's very professional and willing to work with individual needs. His services have helped me reach new levels with my triathlon training. Seriously affordable too. Best price I found between Batesville and Greensburg.
Wonderful experiences! Will be back again and again. Very professional; Gary always takes great care of me!
Gary does a wonderful job! Most relaxing hour I've had in forever. My muscles feel rejuvenated, I would definitely recommend him to everyone!
First time customer today. Gary was very professional and detail oriented. I feel so much better! Thanks for a great experience! 5 stars!
Gary does a wonderful job! Most relaxing hour I've had in forever. My muscles feel rejuvenated, I would definitely recommend him to everyone!
Gary does a wonderful job in really ensuring each experience is exactly what I need. During booking, there's a section to leave notes so I can give him details of areas with issues or just the focus I want for me time. Both spaces are relaxing, and I always leave feeling relaxed and with exceptionally more mobility in tight areas. He's also great about suggestions that will help during interim times between massages! I always look forward to my next session.
Super easy scheduling, wide array of availability, relaxing massage, welcoming environment, courteous and professional. 5 stars all the way.
Excellent massage! Released several knots with a deep tissue massage. Gary also gave me good advice on a couple of exercises to separate my upper back muscle tissue. Trying to prevent future oversized knots!
As a competitive athlete and personal trainer, I understand the importance of recovery. Kneed Healing is a vital part of my recovery plan. Gary uses a variety of methods (deep tissue, ice stripping, dynamic stretching, etc) to keep my body moving better so that I am ready to compete at my personal best.